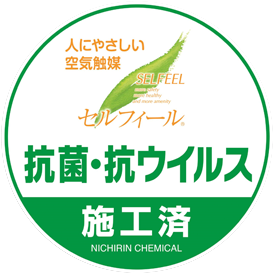 Our aim is to be a hotel our guests can use with more reassurance than ever.

rooms, entrances・lobbies,
check-in counters,
restrooms, elevators,
corridors,
restaurants, banquet halls, chapels,
auxiliary facilities, spas,
and other facilities for our guests
[SELFEEL® Air Catalyst]
SELFEEL® breaks down harmful substances in the air, providing powerful deodorizing, antibacterial, anti-staining, and anti-molding effects. It is widely being used in public transportation, medical institutions, and other organizations.*The antibacterial/antivirus agents have no effect on the human body or the environment.