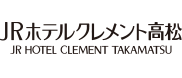 JR Hotel Clement Takamatsu

760-0011
1-1Hamano-cho,Takamatsu City,Kagawa TEL +81-87-811-1111
FAX +81-87-811-1100
By Train
JR
Approximately1 minute from JR Takamatsu Station

Private railroad
Approximately3 minutes from Kotoden Takamatsuchikkou Station
By Car
Approximately 20 minutes from the Takamatsunishi I.C.
Approximately 20 minutes from the Takamatsutyuo I.C.
From area Airport
From Takamatsu Airport
Approximately 40 minutes by airport limousine bus.
Welcome to JR Hotel Clement Takamatsu. Located within one-minute walk from Takamatsu Station on the JR Line, our full-service hotel offers guest rooms that provide a panoramic view of the Seto Inland Sea and the city of Takamatsu. This unique hotel also features banquet rooms, one of which accommodates up to 1,500 people, as well as Japanese, Western, and Chinese restaurants. We promise you heartwarming service and a pleasant stay.