Plan of action based on the theme
We work toward a reduction of greenhouse gas emissions and a low-carbon society. Through waste reduction measures and a focus on recycling, we push for environmental conservation.
Striving for harmony with nature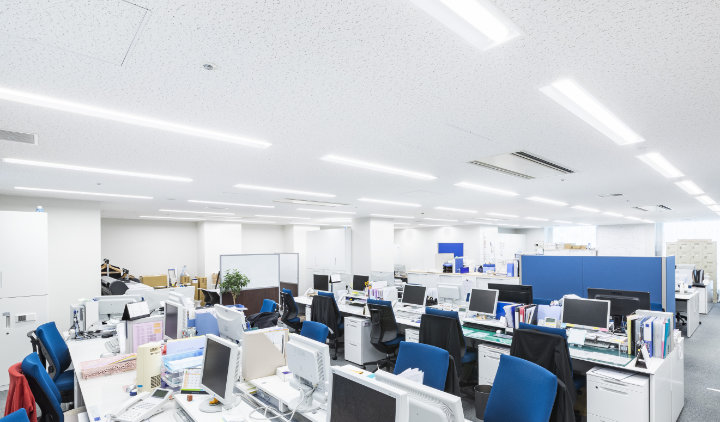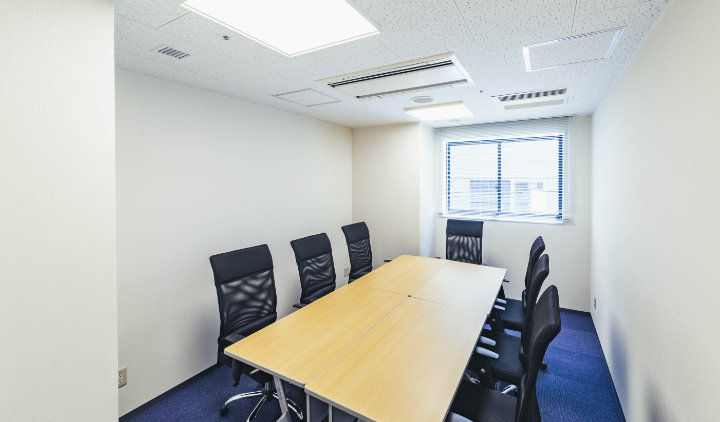 Aiming to reduce CO₂ emissions
At the center of our CO₂ emission reduction efforts is the effort to use less power. This effort was started in the wake of the 2011 Great East Japan Earthquake, when we replaced all lights in our hotels with LEDs. Currently, to further reduce our impact on the environment, we are promoting energy-saving efforts including the adoption of motion sensor lighting in our facilities.
CO₂ emission reduction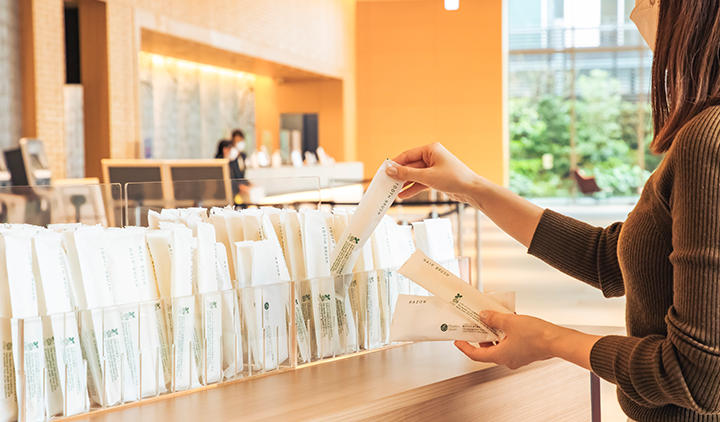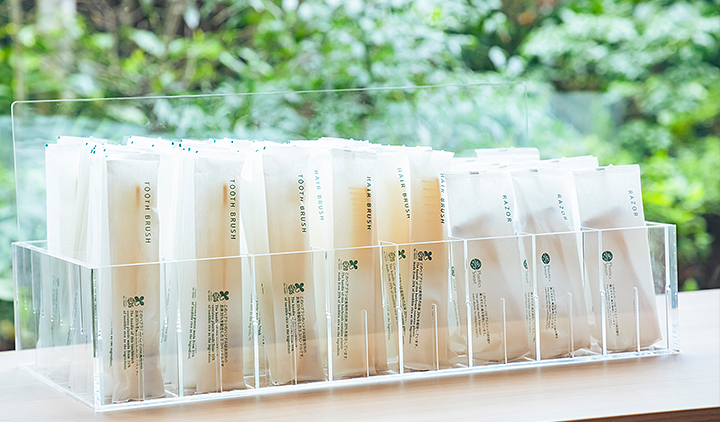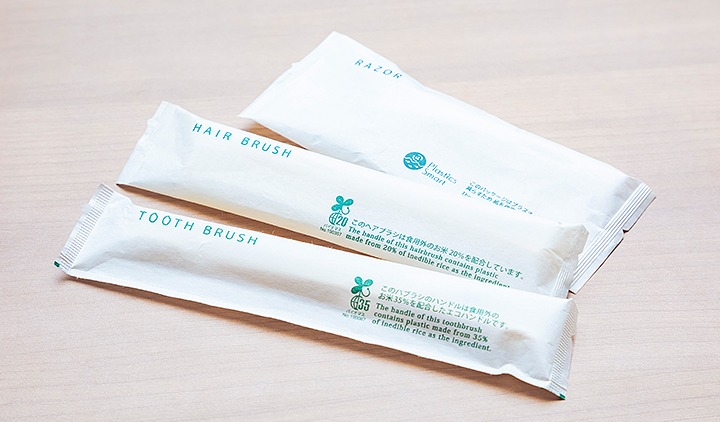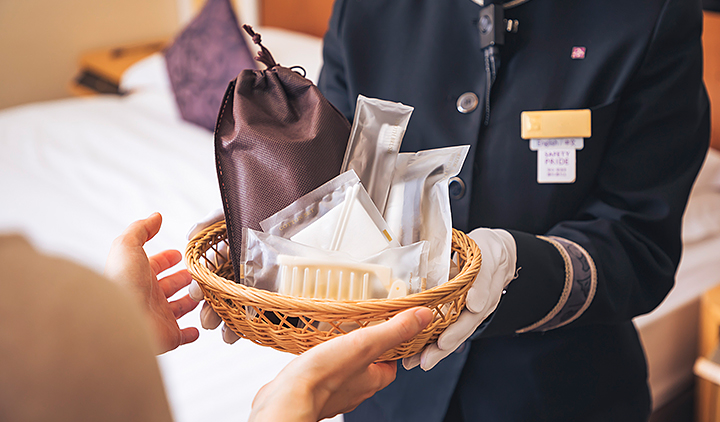 Efforts to remove plastics
"Changes in the handling of in-room amenities"
Added on June,2023
Based on the "Plastic Resource Recycling Promotion Law" that came into effect in April 2022 as a measure against environmental problems, some disposable amenities are provided in the front lobby instead of in the guest rooms.
In addition to "reducing waste generation" by asking guests to take only as much as they need, we are reducing the weight of plastic amenities or gradually replacing them with environmentally friendly alternatives to "reduce environmentally harmful substances as much as possible."
To ensure a comfortable stay for our guests, we inform them of these changes at check-in and also provided an educational display in the guest rooms.
As a business operator providing certain plastic-containing products specified by the relevant law, we have set targets to reduce the amount of plastic used in the specific 12 items, such as guest room amenities.
< Setting statutory targets >
Amount of specific plastic-containing products provided
(t)
Values closely related to the amount of specific plastic-containing products provided
Basic unit related to the amount of specific plastic-containing products provided
(g/person)
Base year: FY2021
20.5
Number of guests
15.0
Target year: FY2025
15.1
Number of guests
6.0
Rate of change
△ 26.2%
+ 84.0%
△ 60.0%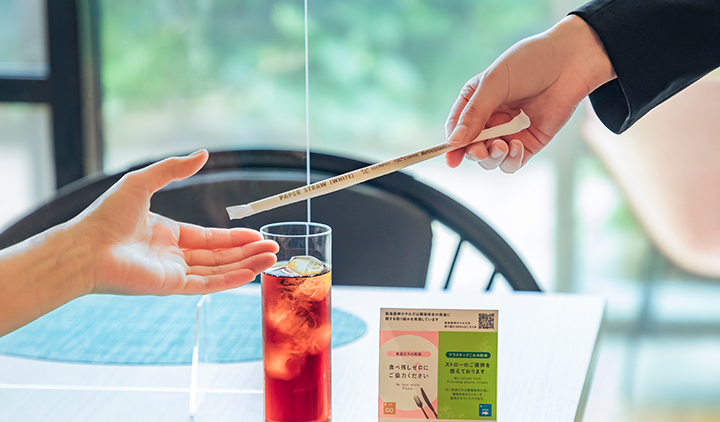 Switching to environmentally friendly straws
From July 2019, we have replaced plastic straws used in our directly run restaurants and banquet halls with environmentally friendly straws. We recognize a strong need to further reduce our use of plastic, with Japan coming in at number two, only second to the United States, in annual plastic waste generation at 32 kg per head.※
Such being the case, to address the need to further reduce our use of plastic, we have embarked on an initiative at our directly-managed restaurants in our hotels to only provide straws to customers who are in need of one.
※Source: United Nations Environment Programme (UNEP) report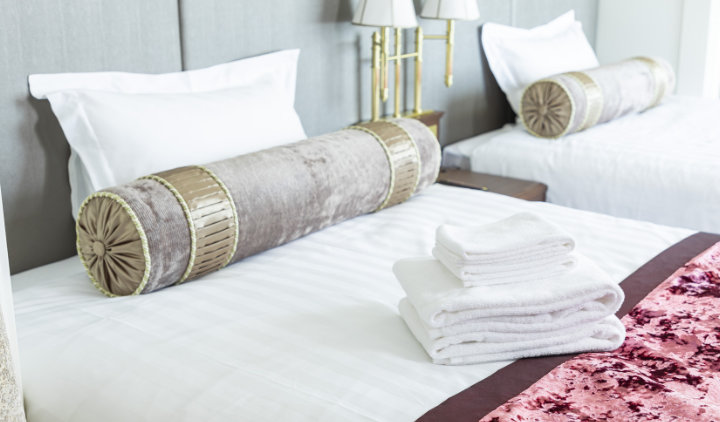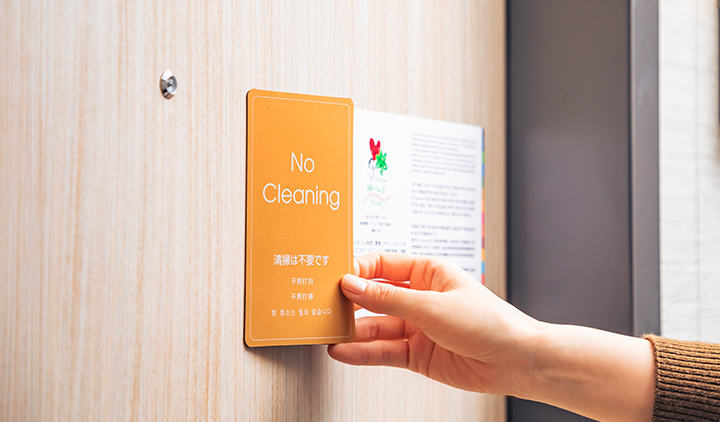 Reusing linen to save water and reduce water pollution
With the cooperation of guests who stay multiple nights in using the same linen after the first night, we are saving water and reducing water pollution due to laundry activity.
Furthermore, a part of the money saved due to the reduced amount of laundry is contributed to local nature conservation efforts.
Donation sum 5,753,950yen ( 2022 results )
Promoting the reduction of food waste
Reducing food waste and participating in a recycling society
With food loss becoming an increasingly worrying issue, we decided to start our efforts by putting in place a measurement system, which tracks the amount of food waste generated at our facilities. We are considering further reduction measures from this point onward.
Current waste reduction efforts include recycling of food waste from Dai-ichi Hotel Tokyo as compost and that from Hotel new Hankyu Osaka as livestock feed.
Food loss measurement system in place:
Hotel Hankyu International, Takarazuka Hotel, Dai-ichi Hotel Tokyo, Hotel Hankyu Respire Osaka, Hotel Hanshin Osaka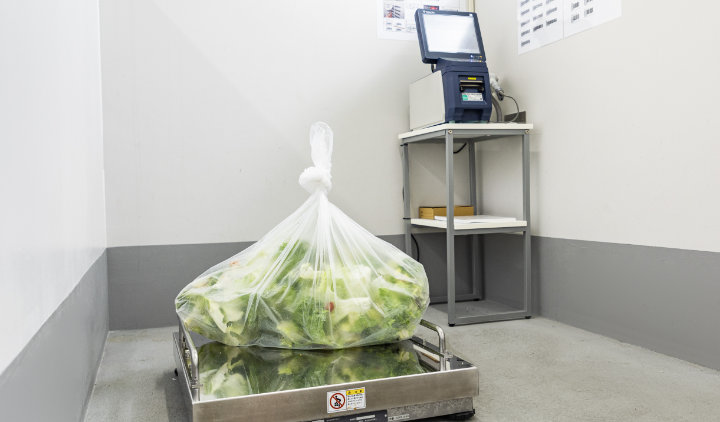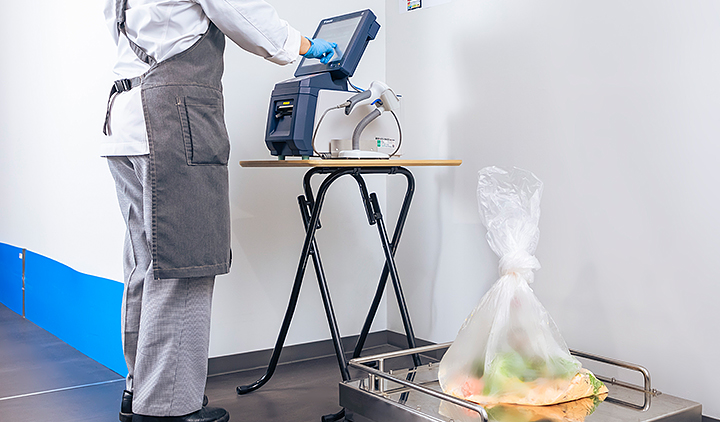 Making effective use of vegetable scraps that are typically discarded
Added on Dec. 3, 2021
Vegetable scraps generated during the cooking process are usually disposed of. We offer vegetable broth soup prepared by effectively using these scraps at our directly-managed staff cafeterias in our hotels. Using the nutritional components of vegetables to the fullest extent, this initiative promotes our employees' health and further encourages waste reduction. Through this initiative, we also afford our employees the opportunity to be reminded of our efforts to achieve SDGs on a daily basis, thereby striving to raise their awareness of SDGs.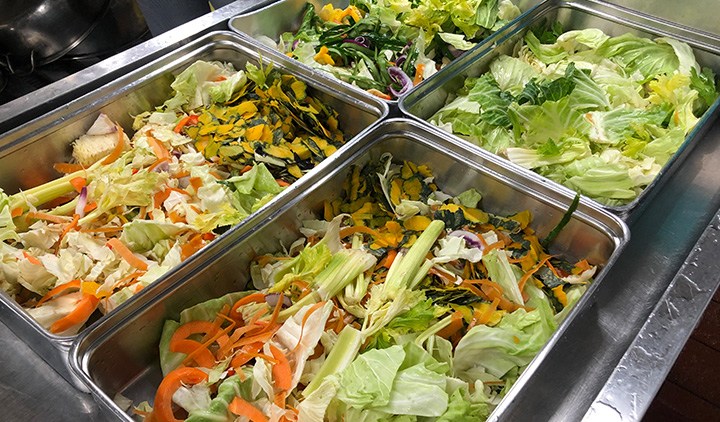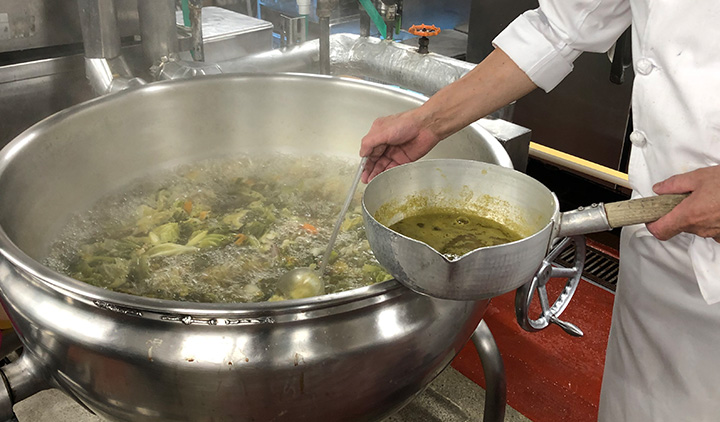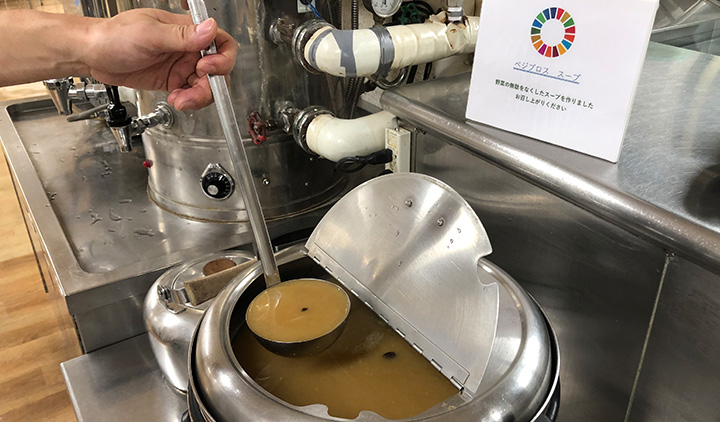 Vegetable broth-based miso soup and other kinds of soup are served.