Plan of action based on the theme
Living up to expectations from all stakeholders, we thoroughly strive for fair and honest governance.
Improving corporate governance effectiveness and transparency
Corporate governance
In order to create satisfaction among our customers and contribute to society, we, as part of the Hankyu Hanshin Holdings Group, are working to greatly improve transparency and the soundness of our management. By ensuring adherence to regulations and a timely release of important information, we are strengthening and enhancing our corporate governance.
Thorough compliance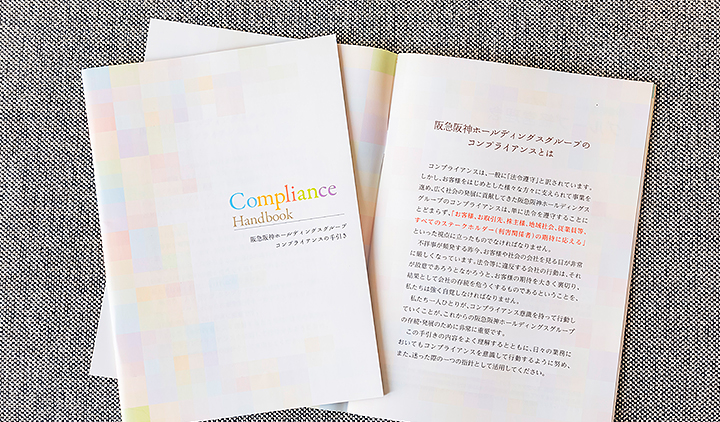 Compliance training
Hankyu Hanshin Hotels spreads the compliance guidelines of the Hankyu Hanshin Holdings Group to all the employees including those of affiliated subsidiaries. Training sessions given to employees of all organizational layers offer further education in compliance.
Corporate ethics consultation
In case of conduct that is in conflict with the law or with societal norms, or in cases where such conduct is suspected, employees including those of all affiliate companies as well as those of business partners can report to a specialized point of contact for information and consultation. Such a point of contact is set up at the Hankyu Hanshin Holdings Group as well as our attorney's office. Through this approach, we can quickly recognize and resolve problems.
Strengthening risk management
We have put in place a risk management system which aims to prevent risks and mitigate losses.
The group-wide risk assessment conducted by the Hankyu Hanshin Holdings Group exposes risks related to climate change, disasters and accidents in connection with the public health, as well as risks related to organizational management and compliance with laws. By taking these risks seriously and responding to them appropriately, soundness of business management is guaranteed.
Information security
While continuing operations, we are aware of the increase in the importance of and risks related to information security. Therefore, we are taking all sorts of measures required for information security. While the departments in charge do what they can to gather information on risks related to information security, there are systems in place to respond swiftly and appropriately in collaboration with Hankyu Hanshin Holdings in the unlikely event that an information security threat becomes real.